It's becoming increasingly possible, thanks to APIs and languages such as Khronos' OpenCL, for applications to efficiently harness the heterogenous computing resources available in modern SoCs. And it's therefore increasingly common for SoC designers to include a variety of both general-purpose and function-specific parallel-processing cores on-chip, leveraging the prodigious transistor budgets available on modern lithography processes. These trends are fully evident with Texas Instruments' 28 nm-based Sitara AM57x processor series, whose significant allocation of core and peripheral integration focuses on a variety of functions (Figure 1).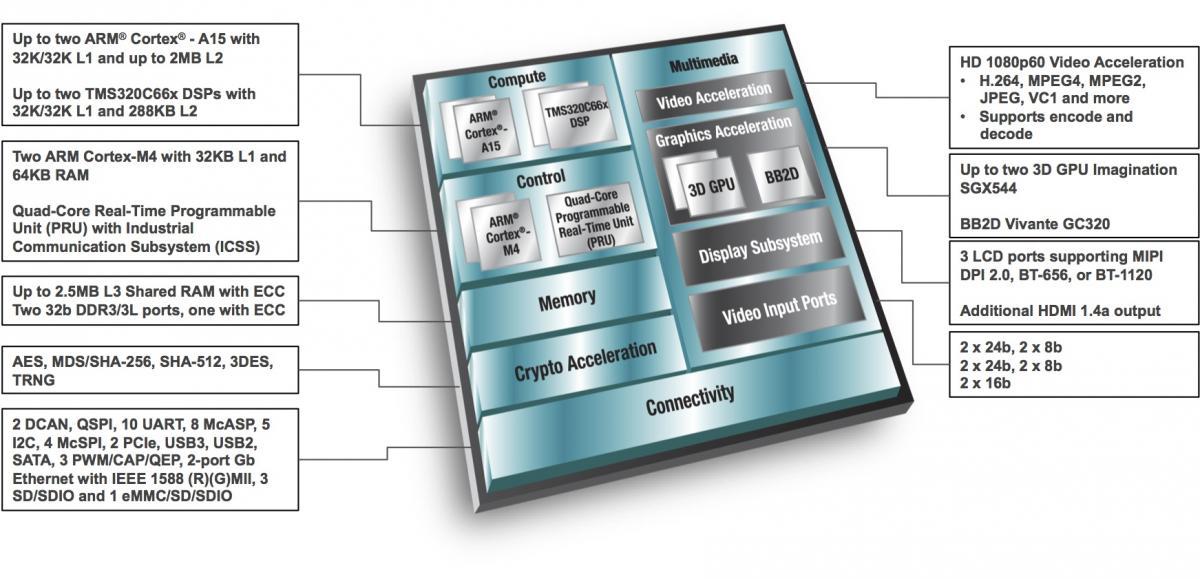 Figure 1. The substantial amount of function integration delivered by TI's new Sitara AM57x processor family befits the diverse demands of its target applications.
Target markets for the five-member Sitara AM57x family, according to company marketing manager Carlos Betancourt and marketing director Adrian Valenzuela, include the following:
Industrial robotics
Machine vision
Substation automation
Industrial PC and human machine interface (HMI)
Avionic control
Test and measurement
Motion control
Medical imaging
Although these applications at first glance seem diverse in their requirements, a significant amount of commonality exists among them, according to TI. Real-time response to toggled relay and switch inputs, along with real-time control of motors, servos and valves, is frequently required; for purposes such as these, Texas Instruments has included two ARM Cortex-M4 CPU cores running at 213 MHz, along with a quad-core 200 MHz Programmable Real-time Unit (PRU) with Industrial Communication Subsystem (ICSS) support. And for general-purpose computational needs, there are up to two ARM Cortex-A15 cores, each running at up to 1.5 GHz, along with up to two TMS320C66x DSP cores operating at up to 750 MHz (Figure 2).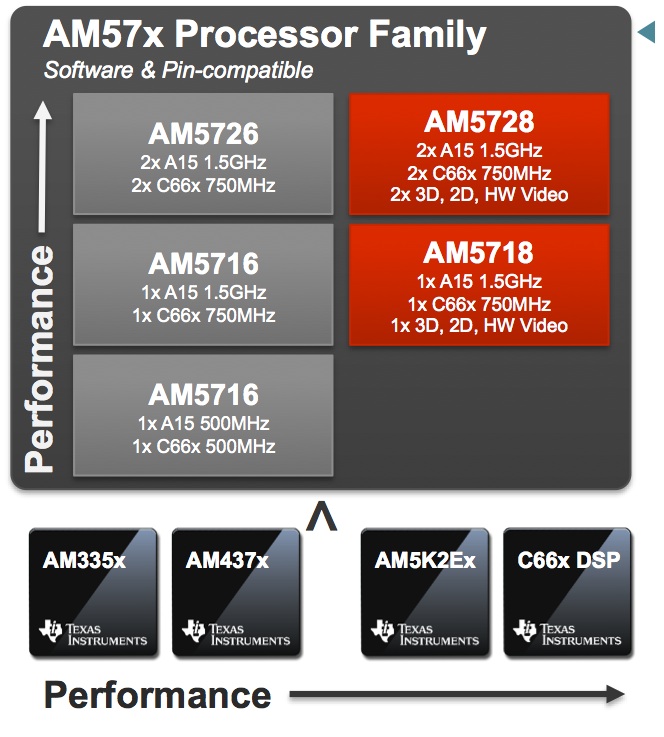 Figure 2. Single- or dual-core CPUs and DSPs operating at a range of peak clock frequencies combine with various multimedia subsystems in high-end Sitara AM57x SoCs.
The DSP subsystem finds use, for example, in industrial programmable logic controllers (PLCs) and other applications that include cameras as input sources, along with computer vision algorithms to interpret meaning from the captured images. If the video streams arrive in compressed form, the video acceleration block on the Sitara AM5718 and AM5728 can decode them prior to processing; that same block can also be used to accelerate video encoding (MPEG-2, MPEG-4, H.264, etc.). And, supporting rich visual interface requirements, the AM5718 and AM5728 also embed a Vivante GC320 2D graphics core, along with either a single-core Imagination Technologies SGX544 or dual-core SGX544 MP2 3D graphics subsystem.
Associated display connectivity is delivered by up to three LCD ports (each supporting multiple standards) and a HDMI 1.4a output. The integrated cryptography engine found in all five family members accelerates encode and decode of a variety of encryption standards, including AES, SHA-256/-512, and 3DES; a hardware random number generator is also included. Dual 32-bit DDR3 controllers for external DRAM supplement the 2.5 MBytes of embedded, ECC-equipped (a first for Sitara) shared SRAM. And completing the picture is a variety of additional I/O interfaces, including dual x1 PCI Express, dual Gigabit Ethernet, USB3 and USB2, and SATA ports.
Addressing Jeff Bier's recently stated concern about semiconductor vendors' abilities (or not) to adequately serve the diverse embedded market, Betancourt and Valenzuela noted that TI is prepared to service customers as small as "one guy working out of a garage, buying one chip." Sitara has always been an embedded-focused product line, so the company's response isn't surprising. Key to the company's embedded strategy is its online customer support forum, staffed by TI engineers, which BDTI was told frequently achieves 100% response to customer questions.
Regular, thorough training of distributors' and engineering services providers' application engineers is equally key, as is a robust suite of hardware and software development tools from both TI and third parties. For the Sitara AM57x line, TI has for the first time based its own evaluation board on a $199 BeagleBoard-developed design, which is scheduled to ship later this quarter (Figure 3). TI supplements the BeagleBoard-X15 with a 7" capacitive touchscreen LCD board and a 3 Mpixel camera board to create the $599 TMDXEVM5728 evaluation module.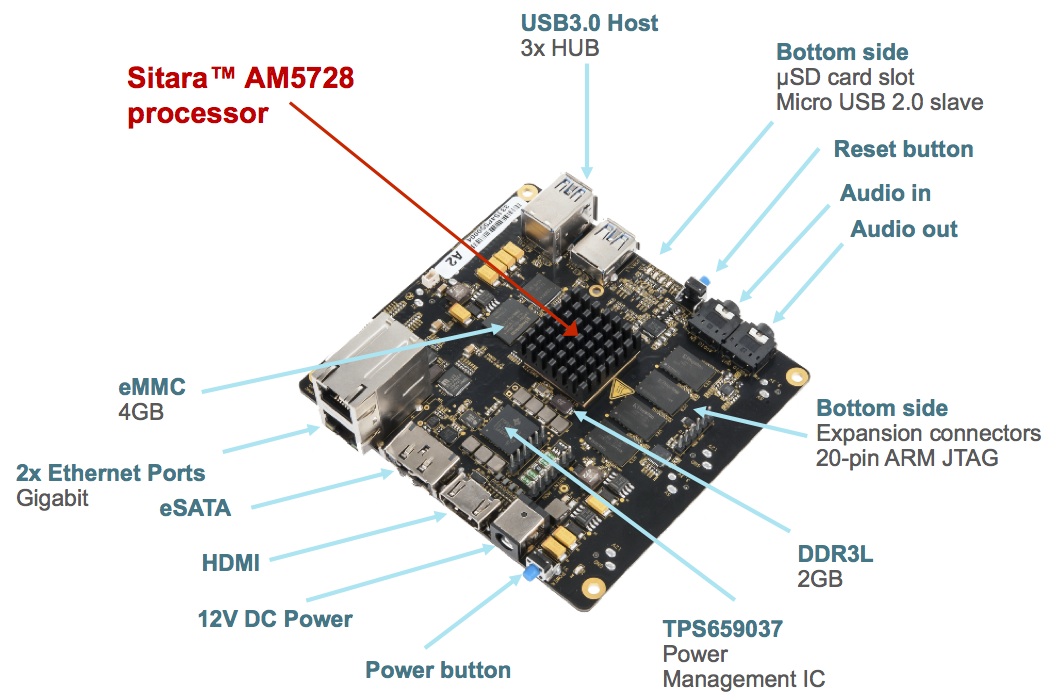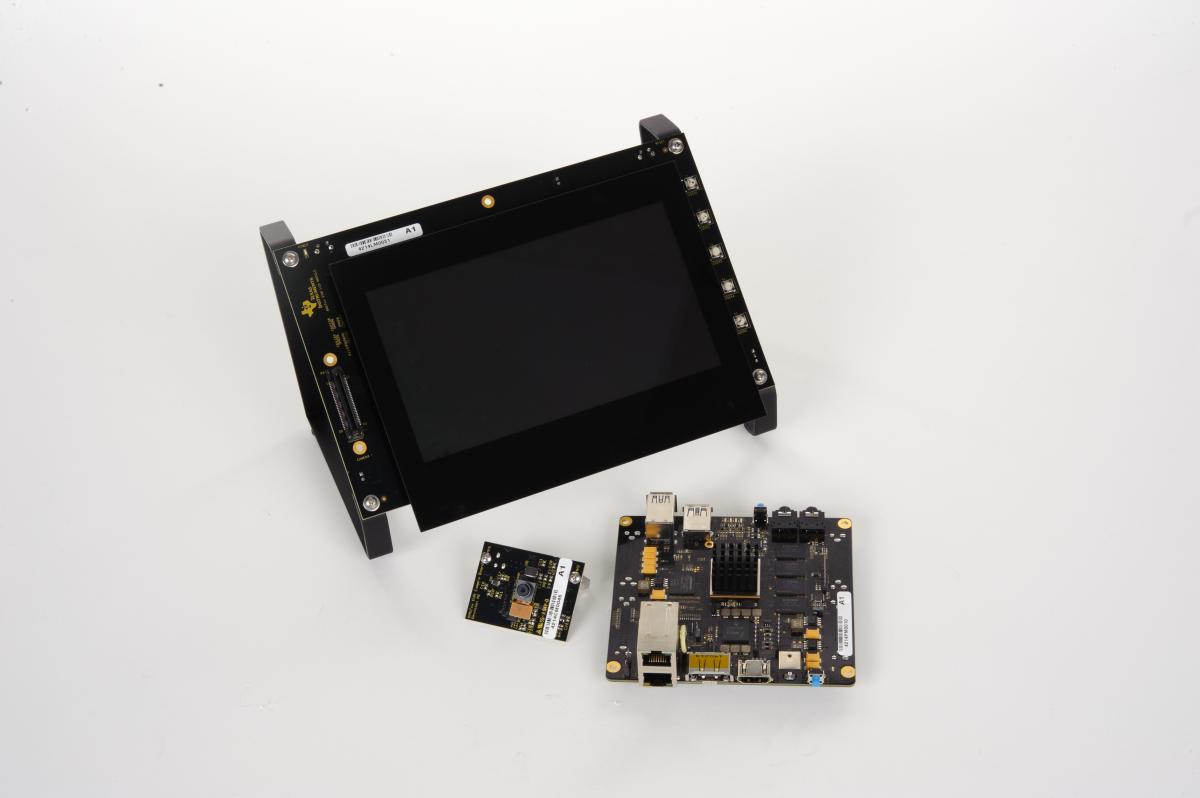 Figure 3. The $199 BeagleBoard-X15 (top) forms the hardware foundation of TI's $599 TMDXEVM5728 evaluation module (bottom).
Samples of all five Sitara AM57x chips are now available, as is the TMDXEVM5728 evaluation module. Pricing begins at $27 (1,000-unit quantities) and extends to $58 (1,000-unit quantities) for high-end family devices. Power consumption varies from one family member to another, depending on level of integration and degree of usage, but typically ranges from 1.5-4.0 W. Now available for download is TI's free Processor SDK, which supports both the company's latest Sitara processors and its DSP families and, according to TI, simplifies migration from one device and product family to another. The Processor SDK is built on a foundation of the Mainline 2015 LTS Linux Kernel v4.1 operating system, U-Boot universal boot loader, Yocto Project-compatible file system, and Linaro tool chain. The structured software architecture also features industry-standard APIs such as OpenCL and implements common drivers and frameworks.