Designing a new processor? Make sure it performs well, developers can use all its capabilities, and gets the attention you want.
BDTI enables processor designers to understand where they stand, demonstrate their products' advantages, and ultimately win more design-ins. By working with BDTI, your company can improve processing performance and power consumption, ensure development tools are developer-friendly, strengthen messaging, and capture customer attention.
Improve processing peformance and power consumption with: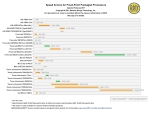 Ensure software development tools are robust, developer-friendly, and efficient with:
Strengthen messaging and product positioning with:

Capture customer attention and communicate your products' advantages with:

No matter what stage of the processor design process you are in, BDTI can help you improve your design, ensure it is properly positioned, and show its advantages. Contact BDTI today for a confidential consultation.