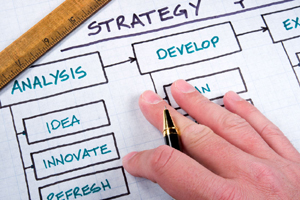 BDTI leverages its skills and experience in evaluating and building technologies for embedded signal processing to assist companies increase competitiveness in computer vision and deep learning. BDTI's uniquely broad market perspective, customer-centric focus, competitive assessment of technologies, and its understanding of embedded processing architectures and trends help companies at multiple levels of planning and decision-making:
Competitive analysis. BDTI helps companies understand where they fit in the technology landscape of computer vision and deep learning. If you're asking questions like "What are our competitive strengths?" then a BDTI Competitive Analysis will provide the answer.
Technology strategy. BDTI helps companies determine marketing and technology strategy. If you are asking a question such as, "We are considering addressing a new market. How can we differentiate ourselves?" then a BDTI consulting engagement on technical strategy will guide you.
Product design and review. BDTI helps companies design and strengthen product plans. If you are asking, "We are planning our next product. How will its features and benefits truly stack up against the competition? How can I credibly use our key differentiators to capture market attention?" then a consulting engagement on product definition will give you valuable insights and actionable recommendations.
Messaging. BDTI helps companies develop robust, technically credible positioning and messaging. If you are asking, "We launch in 30 days. Will our marketing messages resonate with customers? What are our best points of differentiation? Are we getting the message across?" then take advantage of BDTI's Sounding Board service.
Benchmarking. Do you need to quantify your competitiveness? BDTI has benchmarked embedded technology for over 25 years—BDTI is the most trusted source of embedded benchmarks in the industry.
Services for processor vendors. Need to know where you stand? Communicate your advantages more effectively? Make sure your development tools aren't a barrier to customer adoption? BDTI offers a range of services for processor vendors, from competitive analysis to hands-on evaluation of software development tools.
Communicating technology value. Have a breakthrough new processor, tool, or development kit? Need to convince your customers that it actually works? A BDTI-branded Custom Report helps you credibly communicate your value proposition to even the most cynical of customers.
Call BDTI at +1 925 954 1411 or contact us via the web to learn how BDTI can help improve your competitiveness.  All inquiries are confidential.