Freescale has launched a new family of application processors—the i.MX 6—that includes single-, dual-, and quad-core members along with a complement of hardware accelerators for multimedia applications. The processors combine ARM's Cortex-A9 CPU with a 3-d graphics controller, video processing unit (VPU), image capture function, and image processing unit (IPU). The family targets a broad range of products from monochrome e-book readers and simple tablets at the low end to netbooks and full-function media tablets at the high end.
Products in the new family include the i.MX 6Solo, i.MX 6Dual, and i.MX 6Quad, incorporating single-, dual-, and quad-core Cortex-A9 CPUs, respectively. The CPU cores run at up to 1.2 GHz and share up to 1 Mbyte of level 2 cache. The Cortex-A9 cores include ARM's NEON SIMD (single instruction multiple data) engine as well as version 3 of the ARM Vector Floating Point unit (VFPv3). The cores also integrate ARM's TrustZone technology that enables applications such as secure payments and digital rights management (DRM).
Figure 1 provides a simplified block diagram of the i.MX 6 family with some additional details as to the functions provided in the single-, dual-, and quad-core versions of the processor.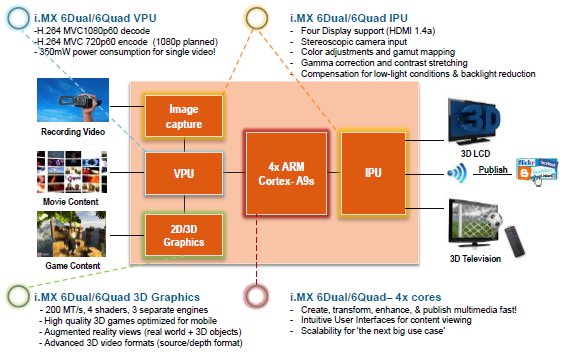 Figure 1. The i.MX 6 family combines an ARM Cortex-A9 CPU with video and image processing units.
Freescale declined to provide much detail on the architecture of the chips. And the company hasn't announced a specific shipment date for the chips, instead specifying that samples will be available "later this year." It may be that Freescale is still polishing the design.
Regarding the integrated graphics controller, Freescale has simply said that the i.MX 6Solo has next-generation 3-d graphics hardware. The dual- and quad-core offerings have a 3-d implementation with four shaders that can cumulatively process 200 million triangles per second. The dual- and quad-core processors include the video processing unit, image processing unit, and image capture functions that are (apparently) not included in the single-core processor.
The video processing unit is focused on video encode and decode functions. According to Freescale, the unit can decode 60 fps 1080p H.264 video and encode 60 fps 720p, or 30 fps 1080p H.264 video. Freescale also plans to offer 60 fps 1080p encoding, although has provided no details as to when or how such support will be added. It could come with an escalation in VPU clock rate down the road, or through a more thorough optimization of the VPU codec firmware.
Judging from prior generations of the i.MX processors, the VPU architecture is likely a fixed-function unit that is not programmable by the user. Freescale didn't offer a complete list of all of the codecs that the i.MX 6 processors will support. The company did specify that the processors will handle the VP8 codec that's used in the WebM Project (WebM is an open-source project focused on a new web-centric codec).
The image-capture function supports stereoscopic camera input for 3-d applications. Combined with the image processing unit, the design supports color adjustments and gamma correction, and can compensate for low-light conditions. The IPU supports four HDMI displays.
Freescale has not provided much in the way power consumption specs, although it did state power consumption for specific multimedia tasks. According to Freescale, the dual- or quad-core processors will handle 30 fps 1080p or 60 fps 720p H.264 High Profile (50 Mbps) video decode while consuming 350 mW. Freescale equates that to 11 to 24 hours of battery life in a product.
For image capture, Freescale claims a product based on a dual- or quad-core i.MX 6 will be capable of 12 hours of 30 fps 1080p H.264 (20 Mbps) encode. That assertion is based on 300 mW of power usage. For 3-d capture, the device can capture and decode dual 60 fps 720p 25 Mbps streams using 700 mW, according to Freescale.
Freescale's marketing pitch for the i.MX family centers on software being the largest portion of a project focused on developing a multimedia product such as a tablet. The company argues that the i.MX family will allow customers to develop software once and offer the features supported by that software over a range of products enabled by the single-, dual-, and quad-core family.
The company also claims a long list of software support. Supported operating systems include Android, Microsoft Windows Embedded CE, Ubuntu, Linux, and QNX. The company also highlighted Adobe Flash and Skype support.
Based on the limited data disclosed by Freescale so far, the i.MX6 family could be a potent player in the increasingly competitive application processor space.  To really know how it stacks up, though, we'll need to wait for more details from Freescale—including a timeline for delivery of silicon.