VeriSilicon has released a licenseable DSP core, the ZSP800, and an associated development platform, VZ.AudioHD, optimized for "HD" audio applications.
The term "high definition audio" can mean different things to different people.  For example,  in 2004 Intel introduced "high definition audio" technology aimed at PCs. For Verisilicon, "HD audio" refers to the audio requirements assocaited with digital high-definition TV (HDTV), high-definition optical media (Blu-ray and HD DVD), and games (Playstation 3 for Blu-ray, Xbox 360 for HD DVD) that support such media.  Developers of products featuring sophisticated audio capabilities have always faced challenges such as converting floating-point algorithms to fixed-point, optimizing implementations of those algorithms to obtain acceptable performance, and understanding the requirements of licensing bodies.  Standard-definition DVD players, for example, require support for multiple audio formats:  Dolby Digital (AC-3), Digital Theater Systems (DTS), and/or MPEG audio. 
With Blu-Ray, HD DVD and HDTV systems, the situation is even more difficult.  These systems support many more audio formats, and  these formats support more audio channels, higher bit rates, and/or higher sample rates.  The combination of more-sophisticated algorithms and higher data rates creates a significant increase in processing requirements compared with previous-generation systems.  In addition, there is no one-stop licensing organization for all of the audio standards, and for some of the audio standards there is no established verification entity. For example, Blu-ray players are required to include DTS, Dolby Digital AC-3, and linear PCM (uncompressed pulse-coded modulation). Optionally Blu-ray players may support Dolby Digital Plus, DTS-HD High Resolution Audio, and the lossless formats Dolby TrueHD and DTS HD Master Audio.  Players for HD DVD  must offer PCM, Dolby Digital, Dolby Digital Plus, DTS, DTS-HDHR (High Resolution), and DTS-HD Master Audio. Meanwhile the European DVB television standard supports AC-3, Enhanced AC-3, DTS, MPEG-1, MPEG-2, and various flavors of MPEG-4 audio.  (NTSC HDTV audio in the U.S. focuses on Dolby Digital).  Although the format war between Blue-Ray and HD DVD is not completely resolved, no matter which side wins, market for HD-related audio products is expected to grow significantly.
VeriSilicon's VZ.AudioHD platform builds on the company's earlier VZ.Audio platform. The VZ.AudioHD platform includes optimized software for many of the required compression algorithms. Although these software packages have not been approved yet by the licensing organizations such as Dolby, VeriSilicon has expended considerable effort to verify that they work correctly.  To make a complete audio product or subsystem, other audio functions are usually needed, falling into categories such as synchronization, post-processing and mixing.  VeriSilicon also provides software modules for several such functions.
Verisilcon acquired the "ZSP" family of DSP cores from LSI Logic in 2006.  The ZSP family includes a large number of DSP cores aimed at a wide variety of markets including portable audio players, DVD players, personal music players, VoIP hadware, and other wired and wireless communications devices.  The ZSP800 DSP core is backwards compatible with earlier ZSP cores. 
The ZSP800 core is shown in the figure 1.  VeriSilicon claims that the ZSP800 provides sufficient performance to enable single-core solutions for demanding HD audio applications.  Like previous ZSP800 cores, it is fundamentally a 16‑bit architecture with strong support for 32‑bit operations.  And, since 32 bits do not provide adequate resolution for some high-quality audio algorithms, 40‑bit ALU and memory operations are also provided.   The data path includes two multiply-accumulate units and an ALU unit. The Z800 performs up to one 32×32‑>72-bit multiply-accumulate operation ("MAC"), two 32×32‑>40‑bit MACs, two 32×16‑>40-bit MACs, or four 16×16‑>40 MACs in one cycle. There are two 64‑bit load-store units that can address up to four gigawords of memory, which can be addressed in increments of 16, 32, 40, and 64 bits.  Special instructions allow for shifting in an arbitrary number of bits from a bit stream, a key operation in audio compression decoders.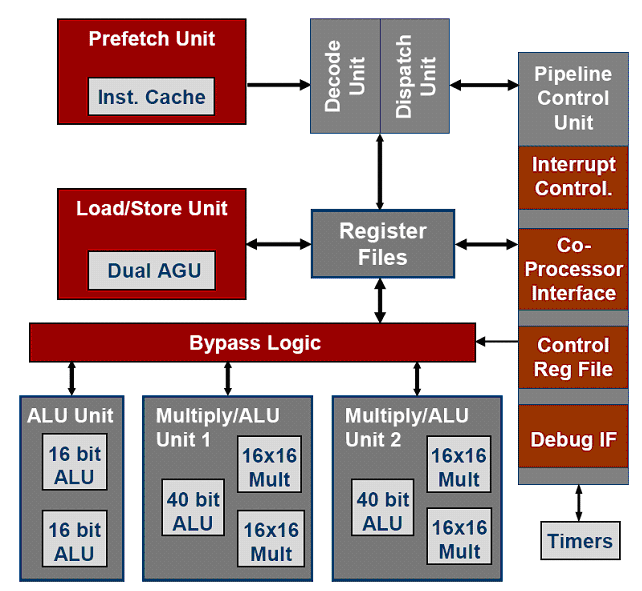 Figure 1. VeriSilicon's ZSP800 core
Verisilicon's primary business is designing custom SoCs for applications such as consumer electronics.  For these designs, Verisilicon uses a portolio of its own IP blocks and IP blocks (such as ARM cores) licensed from other IP providers.  In addition, Verisilicon offers the ZSP cores and associated IP for licensing to chip developers who wish to create their own designs.
Hardware-software solutions for audio systems (or systems incorporating audio as one feature) have been around for decades.  The new round of HD standards stretches the bounds of what DSP chip and core suppliers have traditionally offered, particularly in terms of audio codec software. With the VZ.AudioHD offering, VeriSilicon appears to be the first silicon IP provider making an all-out push to address this market.
For an in-depth analysis of the ZSP family of cores see BDTI's analysis report, Guide to the LSI Logic ZSP Family.