On July 5th ASIC design house VeriSilicon Holdings Co. announced its acquisition of the ZSP digital signal processor core business from LSI Logic for $13 million in cash and stock (LSI originally acquired the ZSP unit in 1999 for $11.3 million) The acquisition includes cores, development tools, ASSPs, software, and associated patents. VeriSilicon will retain most of the ZSP R&D team and continue developing a roadmap for additional core products.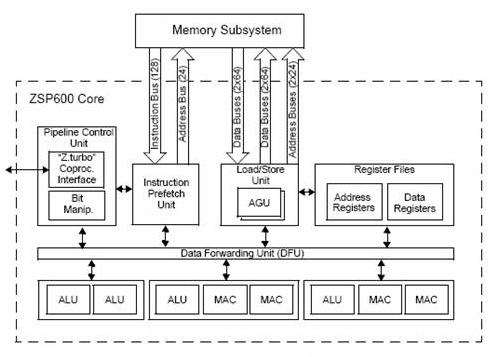 Figure 1. Simplified ZSP600 architecture
Founded in 2001 and based in Shanghai, VeriSilicon began its IP portfolio with ASIC standard cell libraries and other low-level building-blocks. Larger IP blocks such as A/D converters and peripherals followed. In September, responding to growing demand for SoCs requiring DSP processors, the company licensed the ZSP400 core from LSI Logic and began incorporating ZSP technology into its design flow. With its acquisition of the ZSP unit, VeriSilicon will have all the ZSP cores at its disposal to provide increasingly complex DSP-oriented SoCs in applications such as wireless, digital multimedia, and voice-over-IP.
As part of the deal, VeriSilicon will continue to fulfill all contractual obligations to current ZSP licensees as well as license a number of ZSP cores to LSI. The company plans to proliferate the ZSP cores as IP, much as LSI Logic attempted to do before announcing in March its intention to sell the business. VeriSilicon hopes to differentiate itself via integrating ZSP technology into its turn-key, custom-designed SoC solutions. VeriSilicon VP of engineering Prasad Kalluri, formerly head of LSI Logic's ZSP unit, reports, "Some of the existing ZSP licensees who we've visited recently are saying, 'Yes, I want the ZSP cores, but I also want your design services.'" When asked about conflicts of interest due to some existing ZSP licensees offering design services that compete with Verisilicon's, Prasad contends that only a small fraction of ZSP licensees are design service firms and that VeriSilicon is confident in the company's strong position in design services. It will be interesting to see whether VeriSilicon will provide ZSP cores to design firms competing with VeriSilicon for specific design opportunities.
While VeriSilicon may be able to exploit synergies between its licensing of ZSP technology and its design services, it remains to be seen whether the company can succeed in licensing DSP cores where so many have failed. After all, LSI Logic was itself at one time a full-service ASIC design house providing services similar to VeriSilicon, and presumably enjoying similar synergies. One major difference could be VeriSilicon's base in China. With more and more chip design being done in Asia, being based in China and having well developed relationships with Chinese foundries could give the company an advantage.
For a more in-depth analysis of the ZSP family of cores see BDTI's analysis report, Guide to the LSI Logic ZSP Family.