Services for Processor Designers
Designing a new processor? To make sure it performs well and gets the attention you want, engage BDTI.
BDTI enables processor designers to understand where they stand, demonstrate their products' advantages, and ultimately win more design-ins. By working with BDTI, your company can improve processing performance and power consumption, strengthen messaging, and capture customer attention.
Improve processing peformance and power consumption with: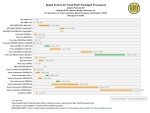 Benchmarks
Benchmarks are an integral part of the processor design process and BDTI is the trusted source for embedded processing benchmarks. In an ideal world, you'd measure the performance of a real-world application on your new processor, but there's no single real-world application that represents all signal processing tasks. Here's where BDTI is invaluable. BDTI has a range of off-the-shelf benchmarks to enable you to understand the performance of your design and make critical improvements before you tape out. Or we can design custom benchmarks tailored for your specific needs. One of our case studies describes such a custom benchmarking project.
Do you need reliable, credible benchmarks for your processor design? Get in touch with BDTI.
Competitive Analysis
Analysis goes hand-in-hand with the benchmarking process. Once you've got your results, the next step is to understand what they mean. Here's where BDTI's 20-plus years of benchmarking and analysis are priceless. BDTI will help you understand how your design stacks up against the competition and enable you to credibly communicate its advantages to your customers.
And if you find out that your design doesn't perform as expected, you now have the data to improve it. You use benchmark results and analysis first for internal purposes, to validate design decisions and make improvements. Then when you're ready, you can use them to position your product and demonstrate its capabilities with customers.
Do you need to know where you stand? Contact BDTI.
Strengthen messaging and product positioning with:

BDTI's Sounding Board Service
Industry-leading semiconductor vendors have embraced BDTI's Sounding Board Service, using its intensive, interactive format to strengthen product messaging and positioning. If you have an upcoming product launch, a Sounding Board session will make your presentation more impactful and clarify your product's value proposition.
Learn more about BDTI's Sounding Board Service. Or, contact BDTI to discuss a Sounding Board for your product.
Capture customer attention and communicate your products' advantages with:
Demos
Technology companies inevitably face barriers to adoption. The greatest of these is unfamiliarity. Since "seeing is believing," demos are a natural and effective way to overcome unfamiliarity.
Throughout its history, BDTI has worked with dozens of new technologies to develop eye-catching demos that showcase the these technologies' advantages. BDTI creates demos from concept to execution. See examples of BDTI-created demos that showcase vision-based applications here.
Would an eye-popping demo help jumpstart interest in your product? Talk to us.
BDTI-Branded Reports
Another barrier to adoption is customer skepticism. You can overcome this by presenting an independent perspective, clearly explained. Numerous companies have engaged BDTI for an independent analysis of their technology, followed by a BDTI-branded report. A BDTI-branded report is a technically credible and honest, user-oriented evaluation of your technology, carrying the weight of BDTI's reputation for even-handed, methodologically sound assessment of technology.
Interested in hearing more? BDTI's reputation for accuracy and reliability can open doors and win customers. Contact BDTI to learn how a BDTI-branded report can help you. To see what we've done for other companies, download some of our reports.
No matter what stage of the processor design process you are in, BDTI can help you improve your design, ensure it is properly positioned, and show its advantages. Contact BDTI today for a confidential consultation.