Overview of BDTI Products and Services
BDTI products and services help business executives, product marketers, and engineers create and use embedded processing technology, software, and tools. Find out how BDTI can help your company by selecting a role on the left below.
Executives
Marketers
Engineers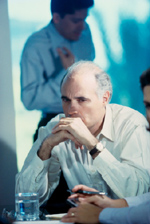 BDTI helps executives make critical decisions that strengthen companies and reward investors
We've helped hundreds of executives grapple with their thorniest technology strategy problems in the microprocessor, programmable logic, signal processing, and embedded technology fields. BDTI business services include:
With BDTI as your business advisor you get a perspective that is:
Broad. By virtue of our position in the embedded processing industry, we're always up to date on the latest products, trends, and technologies.
Deep. We've been at this for 20 years. Unlike some management consulting companies, we actually understand embedded processing technology—from gates and assembly code all the way up to the profit and loss statement.
Independent. BDTI doesn't have a vested interest in selling you on a particular technology or convincing you of some predetermined point of view. As one observer said about our firm, "These guys make a living telling the truth."
Trusted. Companies trust us with their most sensitive strategy questions for one reason: because we've earned it. Our track record is outstanding, and our repeat customer base testifies to it.
The bottom line? Better decisions. Greater profits. Less risk.
To learn how BDTI can help you give us a call at +1 925 954 1411 or contact us via the web today. All inquiries are confidential.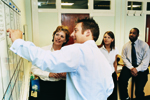 BDTI helps marketers create more compelling products, grab customer attention, and win revenue.
BDTI focuses its experience, knowledge, and perspective on your marketing challenges, helping with product definition, market positioning, competitive intelligence, and messaging. BDTI's services for marketing professionals include:
BDTI concentrates a wealth of knowledge and experience on your marketing problems:
Our staff brings years of experience in analyzing application requirements to give you new insights into the needs of your target market and enable you to define a winning product.
We apply hands-on experience with a wide range of existing products to help you gain insight into competitive dynamics, ensuring your product is properly positioned.
Our technical savvy and understanding of customer concerns enable you to create clear, credible, and compelling messages that will capture customer attention and win business.
Our wide exposure you get advice that incorporates the latest market developments ... but our independent perspective ensures that the advice you get is what's best for you, not some pre-cooked position.
The bottom line? Better products. Better messaging. Better competitive intelligence.
To learn more about how BDTI can help with your marketing efforts, call us at +1 925 954 1411 or contact us via the web. All inquiries are confidential.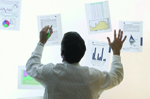 BDTI helps engineers build better products—from processor selection to system design.
The foundation of our engineering services comes from 25 years of designing, implementing, and benchmarking embedded signal processing systems. BDTI has helped hundreds of companies with key engineering tasks like:
Choosing an embedded processor
Designing your product or system
Strengthening your existing product or system
Seeing how you stack up
The bottom line? Better products. Less risk. Faster time to market.
To see how BDTI can help you engineer better products, call us at +1 925 954 1411 or contact us via the web today. All inquiries are confidential.